TüV Rhine presented the first artificial quartz stone/marble China-Mark certificate to Gao Shi Shi
TüV Rhine presented the first artificial quartz stone/marble China-Mark certificate to Gao Shi Shi
On July 3, 2020, the international independent third -party testing, inspection and certification agency Germany Rhein TüV Group (hereinafter referred to as "TüV Rhein") issued it to Gao Shi (Xiamen) Shi Industry Co., Ltd. Artificial quartz stone, marble China-Mark (Chinese logo) certification. Gao Shi Stone Industry is the first artificial stone enterprise that has passed TüV Rhein's "radioactive safety test", "200 hours of ultraviolet aging" and "low VOC release" certification.
Gao Hui, general manager of Gao Shi Shiye, Wang Wei, deputy director of Xiamen Customs Technology Center, Cai Jiejie, Director of the Materials and Radiovision Laboratory of Xiamen Customs Technology Center, Chen Jundong, Executive Director of TüV Rheinfujian Area, TüV Rhein Greater China Product Service Recognition and Certification General Manager Liu Chang and others attended the certification ceremony.
At the ceremony, Gao Hui expressed his gratitude to TüV Rhine and Xiamen Customs Technology Center for their support on Gao Shi Stone Industry on the project: "As a leading company in the Asian stone industry, the severe environment caused by this year's epidemic situation In the following, we can successfully obtain TüV Rhein's first artificial quartz stone and marble China logo certificates. We are very proud. This certification represents the emphasis on stone industry's safety and it will also help Gao Shi stone industry to enhance the brand's uniqueness. "
Chen Jundong congratulated Gao Shi Stone Industry. He said: "TüV Rhine once again witnessed the continuous pursuit of product safety and quality of product safety and quality, and more truly felt the strength of the Chinese stone industry. It has been deeply cultivated in the field of certification for many years. I look forward to continuing close cooperation with Gao Shi Group in the future to jointly promote the high -quality development of 'Made in China'. "
Artificial quartz stones and marble are widely used in home decoration. The use of stones that are not available in quality will endanger their health and may cause cancer. With the awakening of consumer awareness of health and quality, quality has become one of the key factors for people to buy home artificial quartz stones and marble. The dimensions of TüV Rhein and Xiamen Customs Technology Center have strictly and fully tested the artificial quartz stone and marble products of high -time stone industry from the dimensions of "radioactive safety testing", "200 hours of ultraviolet aging" and "low VOC release". The results showed that the release of natural radioactive nucleo and organic volatiles (VOC) of the product was lower than the limit, which met the requirements of the corresponding standards of China and Germany. At the same time, after 200 hours of ultraviolet aging, the appearance and performance of the product have not changed significantly.
In the future, TüV Rhein will continue to work with Xiamen Customs Technology Center and Gao Shi Stone Industry to strengthen cooperation in the testing and certification of building materials products such as natural stone and artificial stone, develop more testing capabilities, assist Chinese brands to establish outstanding quality images for China, for domestic in China Foreign customers provide better services.
About Gao Shi (Xiamen) Shiye Co., Ltd.
Gao Shi Stone Industry entered the stone industry in 1994 and has grown into the largest and second stone supplier in Asia. Gao Shi Shi has reserved rich mining resources worldwide, with about 50 own mines distributed in the United States, Namibia, Norway, Turkey, India, and domestic Shandong, Sichuan, Chengde and other places. Shenzhen, Shanghai, Tianjin, Weihai, Panzhihua, Quanzhou and other places have deployed more than 15 large -scale production and processing bases; business spreads in more than 70 countries and regions around the world.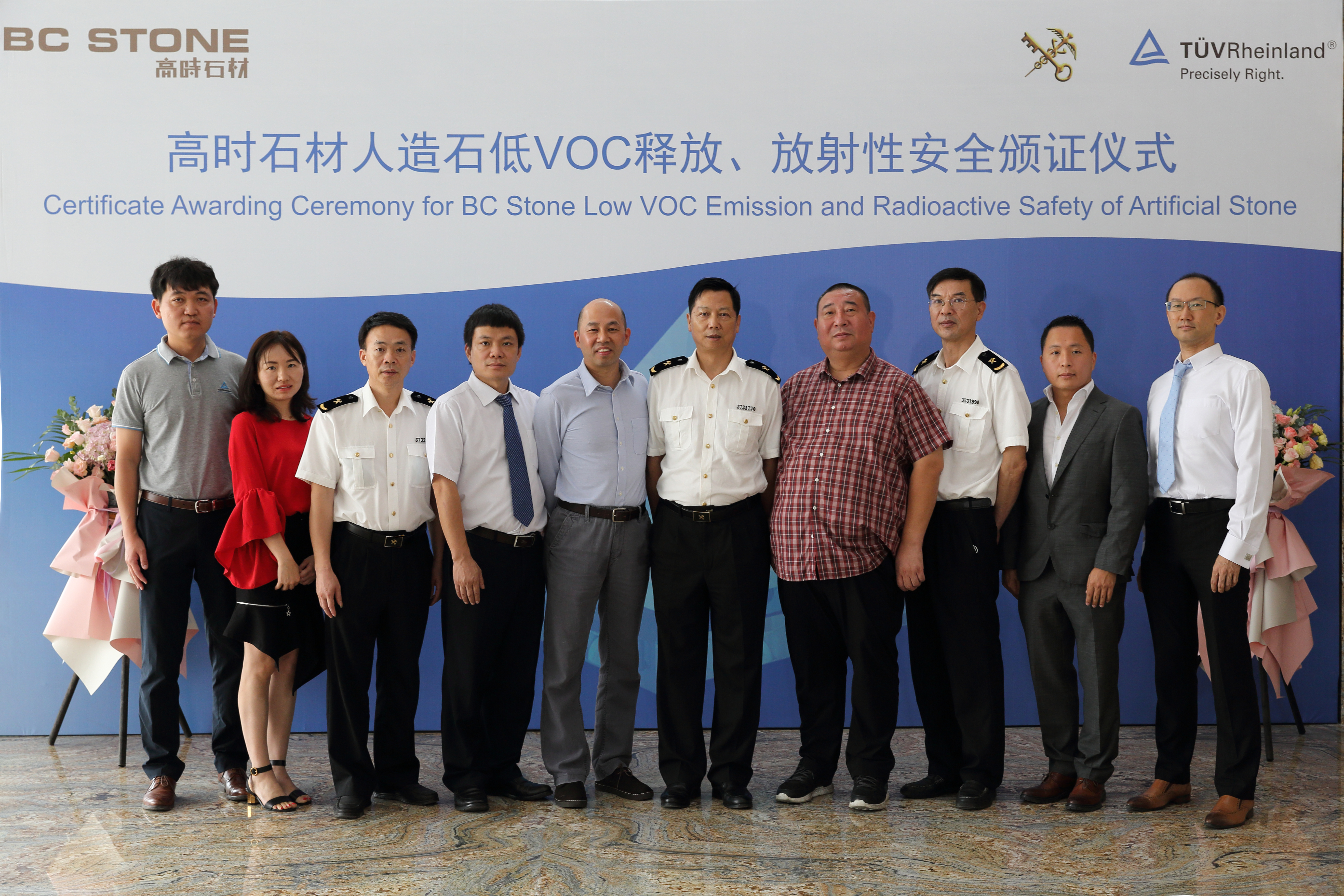 About the German Rhein TüV Greater China
The German Rhein Group, as the world's leading testing, inspection, certification, training, and consulting service providers in the world. It is headquartered in Cologne, Germany. It has nearly 150 years of experience and the number of global employees exceeds 20,000. There are more than 4,000 employees in TüV Greater Rhine in Germany, with a total of five major business groups: industrial services and information security, transportation services, product services, management system services, Rhein Academy and life care. All important areas involved in business activities and daily life include not only the energy industry and consumer goods industry, but also the automotive industry, basic materials and investment products, environmental protection technology, trade, construction, food industry, aviation, railway technology, IT industry, information, information, information, information Security and data protection, logistics, banking and financial services providers, agriculture, tourism and education and medical industries. German Rhein TüV has always been known for its rigorous and high -quality testing and certification services. It provides various professional assessments from the perspective of fairness and independence, and provides local enterprises with a one -stop solution that meets safety, quality and environmental protection.
In order to answer your doubts, the above is what we have organized about CC152 Marble Looking Quartz Stone, hope it can help you.